One-to-one guitar, bass and ukulele lessons in South London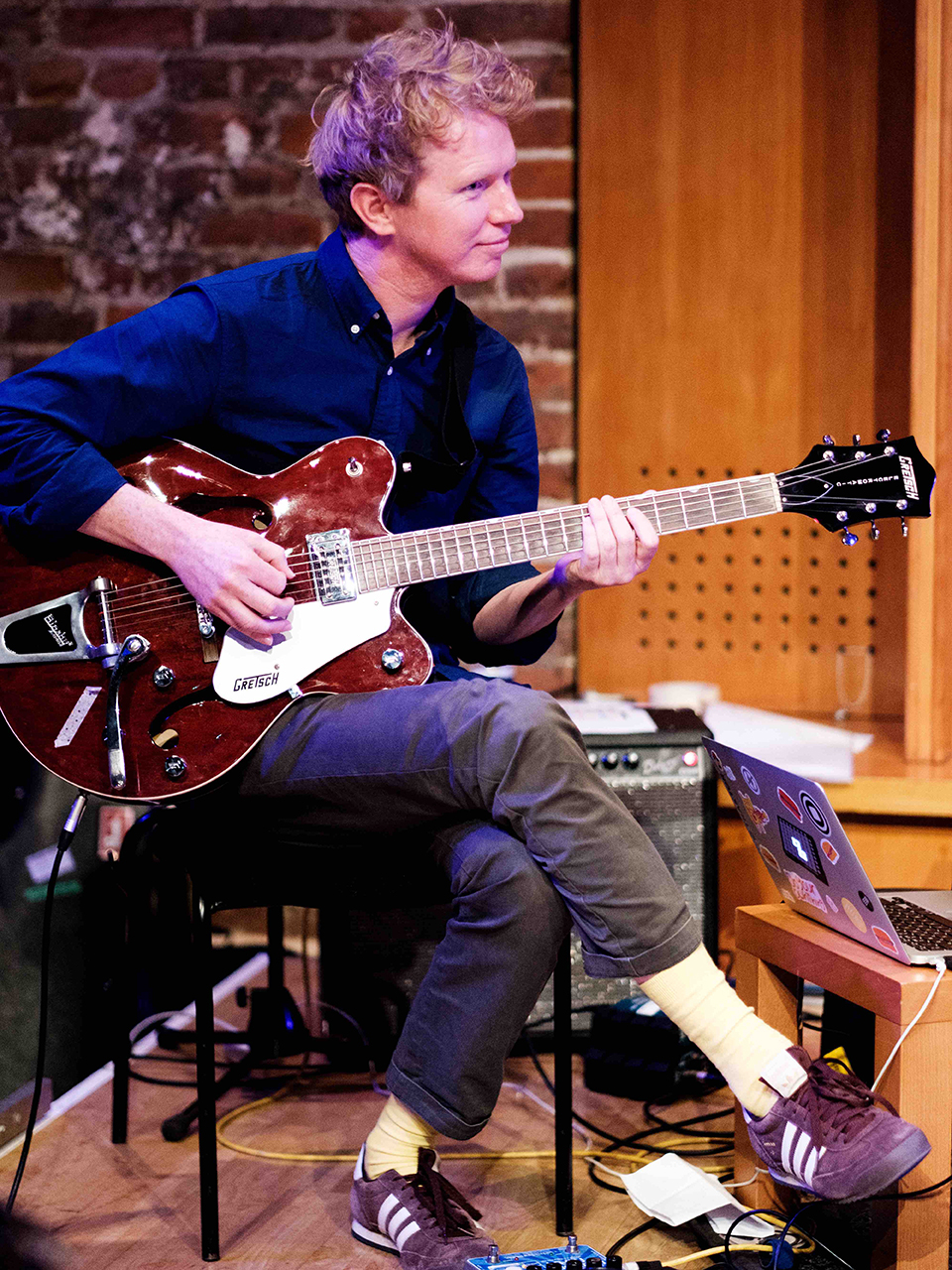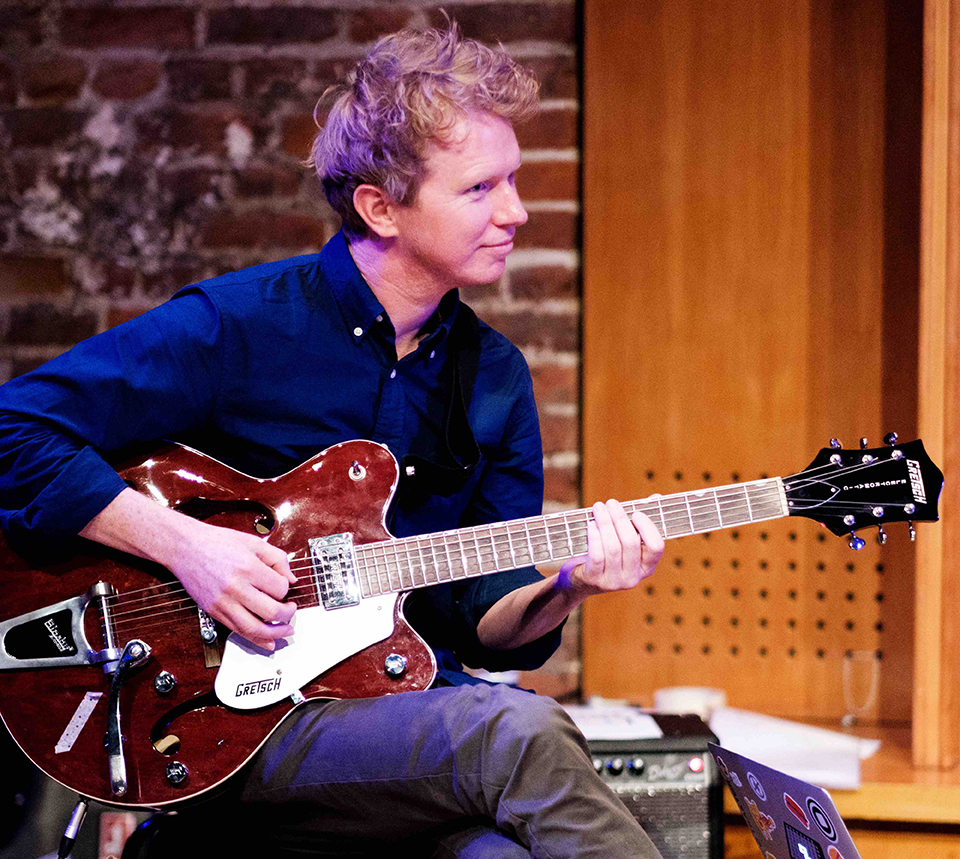 Local musician based in South London with a Masters Degree in Music.
Lessons take place at studio near Honor Oak Park station, in your home or online (Zoom / Skype / FaceTime).
Over twelve years' teaching experience with more than 300 satisfied students taught in South London since 2008.
Students of all ages and levels welcome.
Full DBS check and references available.
All genres or exam styles covered.
Learn to play what you want to play!
I would highly recommend John, who has taught my ten-year-old son guitar for the last year. He selects contemporary music that interests and challenges my son and makes learning an instrument fun, which is exactly what it should be. My son has just passed Grade 1 and is keen to progress further - I never have to nag him to practice which is probably the ultimate testament to John's skills!
John is the most professional, reliable, and patient bass teacher I have had. He is not only teaching me bass guitar, but is providing me with an understanding of music itself. He is a fine teacher and a wonderful person. From the very beginning John recognised my fundamental weakness and we work on it in a variety of ways each lesson. I highly recommend John and I look forward to my next lesson.
John is a brilliant teacher. He has been teaching guitar my 10 years old boy for almost 3 years now and we are very happy and pleased with him. My son really enjoys his lessons and progressed really well. John is very helpful, professional and friendly. Highly recommend.
I spent the best part of a year having guitar lessons with John and I would thoroughly recommend beginning, continuing or developing your practical and theoretical music skills with him. John's approach to teaching was professional and focused but I also particularly enjoyed that my lessons could be fun and relaxing, as well as intensely productive.
I have been going to John for over a year and I love every minute of it. I started as a complete novice bassist and John guided me through each step - I would definitely recommend!
From a complete beginner, I have been practising acoustic guitar with John for well over a year and have made vast improvements and am able to play the type of music I want to. I would highly recommend.
John is an engaging and creative music teacher with just the right mix of gentle and firm persuasion. Our boy loves going to his guitar lessons and has learnt playing the electric guitar to an impressive standard in a short time.
Taking guitar lessons with John is one of the best decisions I ever made. I had already had several failed attempts to learn guitar, but after my first lesson with John I was able to play a song which I enjoyed. The songs I have learned to play are all songs I love from some of my favourite artists, some of which John has chosen specifically to teach me new techniques. He is a really good guitar teacher and I would happily recommend him to anyone looking for lessons.
John seems to have a special way to connect with children. At first Sam was shy and did not want to engage, but after a couple of lessons he was looking forward to meeting John and show him the progress he had made. Learning music has given Sam the chance to boost his confidence and develop a passion that - I hope - he will nurture for life.
When I decided to pick up the guitar again, I spoke to several teachers. John was the only one who didn't have a rigidly defined lesson programme – his approach was to find out what music I liked and what I wanted to learn, and to tailor his lessons to me. He is patient, flexible and good fun to learn with. In 9 months, my playing and musicality have improved no end. He even worked out how to play an obscure 35-year old folk song so he could teach it to me – now that's commitment.
John loves to see new people and probably make them real guitarist when they're older. I found that learning the guitar with him was a lot cooler and more fun, and the songs that we played helped me progress, and now my fingers are really quick on the guitar. John also made it a lot more exciting so you can learn the songs better and faster. I think he's a really good teacher.
After I moved to South London I was in need of guitar lessons and was lucky to stumble upon John. He's very patient and is willing to mentor you whether you simply want him to explain a particular song of your choosing or take you deep into theory, which is all really useful and explained logically. Very personable and can cater to many different styles of playing. Definitely worth looking into if you live Brockley or nearby!
John's approach to teaching music is one if the most innovative ways I have seen. He managed to engage my son in learning the guitar, something I never thought I would ever see happen. The fundamental principles of learning the guitar was done in a fun way making learning music a pleasure for my son. I would recommend John to anybody as I feel he can teach even the most reluctant of learners.
I waited pass 30 to pick up a guitar, having always wanted to learn to play the bass guitar. I looked for ages for a teacher I would feel comfortable with, and once I started taking lessons with John I was amazed at how quickly I improved. I have now moved away from the areas he covers, and I decided to continue the lessons on Skype instead of face to face. It is really working great, and I can feel the progress and confidence growing at each lesson!
John is a really cool teacher and teaches me lots of songs that I really want to learn like Day Tripper by the Beatles. I also really like the star chart because when I finish it he gives me a prize like a new guitar pick. John has taught me chords and how to play Smoke on the Water behind my head! My lessons are always fun and I learn a lot. He's awesome!
❮
❯
About
John Atterbury is a South African musician and teacher based in Honor Oak Park who has been offering one-to-one tuition in South London since 2008. He graduated from Goldsmiths College in 2010 with a Bachelors Degree in Popular Music (1st Class Honours) and recently completed his masters studies in music at SOAS, University of London in 2020 with a MA Music in Development (Distinction). He has a particular interest in South and West African musical traditions, and has studied under South African guitar virtuoso, Derek Gripper, and collaborated with renowned Gambian kora player, Jali Bakary Konteh over the past few years.

As a performer he has over 25 years of experience, and has played at Glastonbury, Reading and Leeds festivals, as well as the Royal Festival Hall, the Barbican and has been featured on BBC Radio 2, BBC 6 Music and Radio X. TV and film credits include the series PREMature, for which he composed over ninety pieces of original music, and the multi award-nominated documentary 'Hooking in Joburg.'

John taught music at the JayNii Streetwise Foundation in Accra, Ghana in 2017 and volunteers for Heart n Soul, an award-winning creative arts company and charity based at the Albany Theatre in Deptford.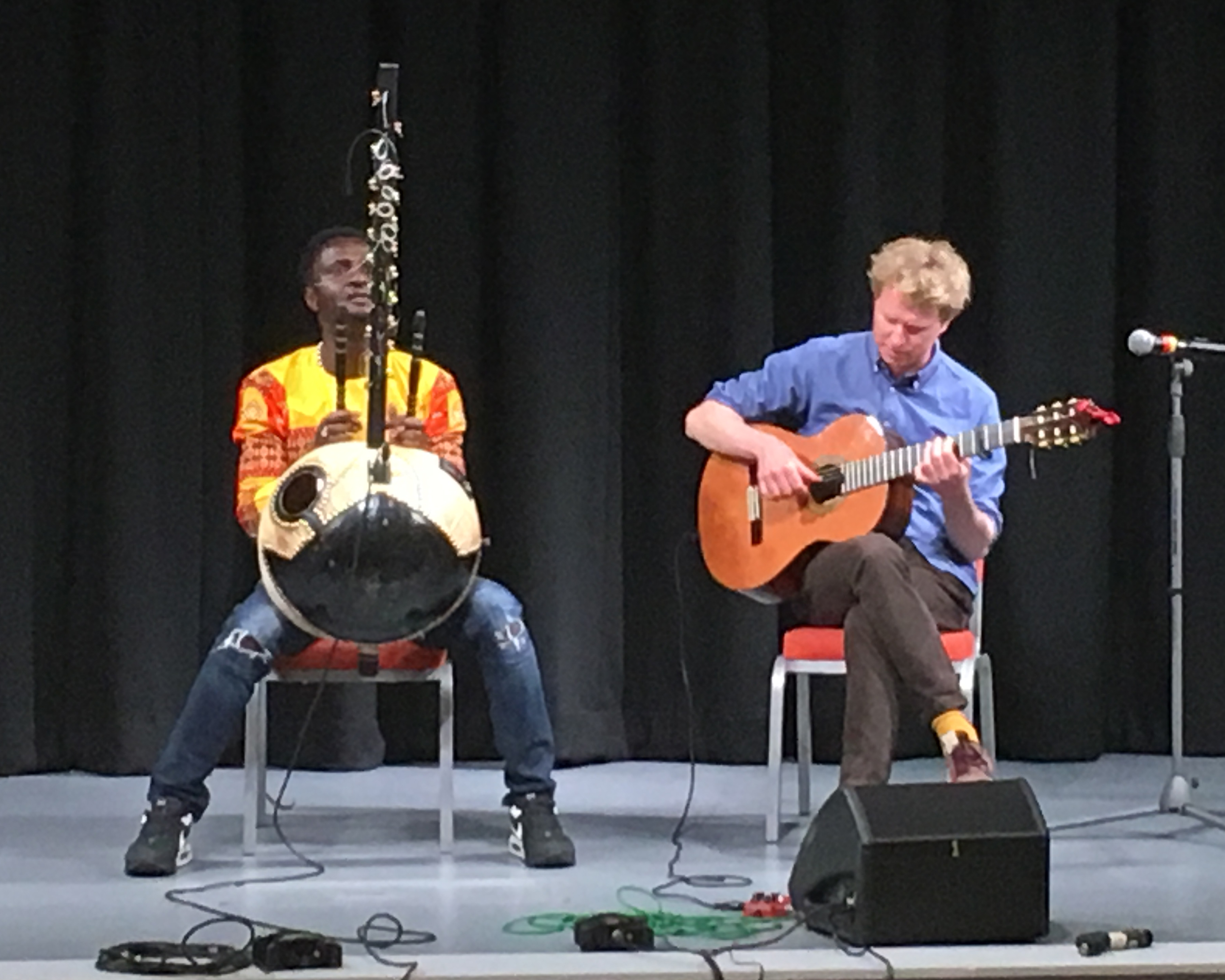 Guitar Lessons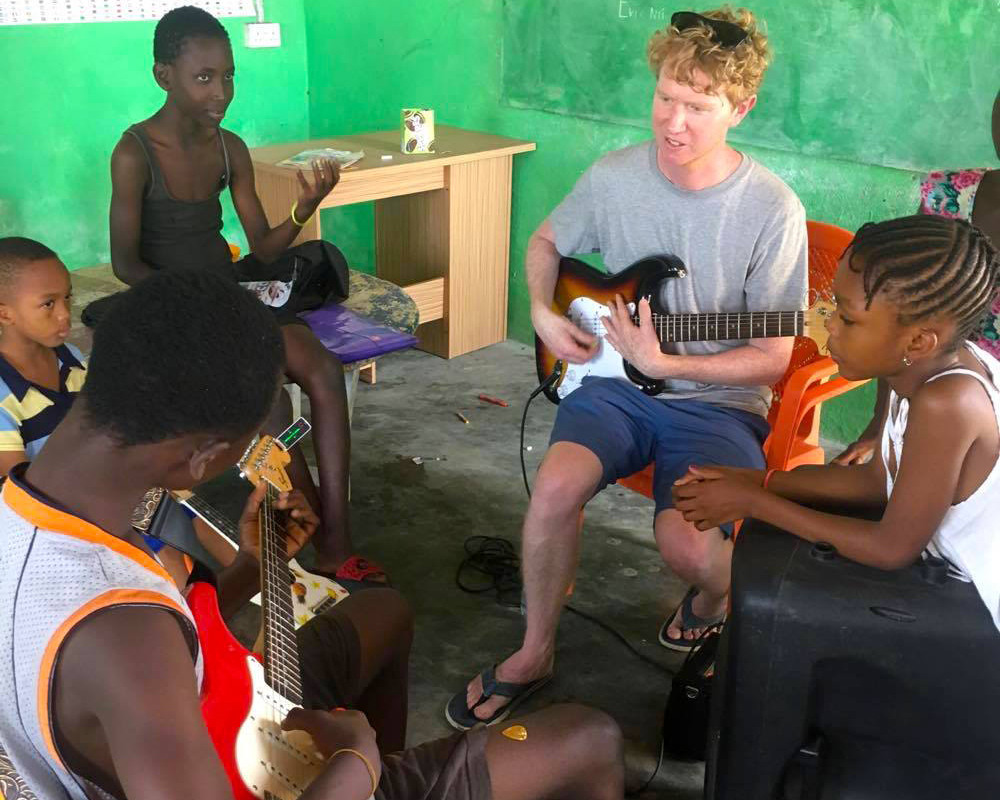 John shapes all lessons to suit each individual student's musical interests and educational needs. The focus of lessons is on practical playing skills with the choice of learning by ear and memory, TAB or standard notation.
Students are able to cover a wide range of styles (including rock, blues, funk, jazz and folk) as well as a variety of techniques and skills, such as improvisation, music technology, recording and mixing techniques, songwriting and music theory.
John has guided many guitarists through their Rockschool, Trinity Rock and Pop and ABRSM graded exams and his student's have all passed with excellent results.
Lessons are planned to follow the below structure with the aim to develop all aspects of guitar skills and musicianship.
Technique: scales, music theory, dexterity exercises, chords voicings, strumming and rhythm, fingerpicking, etc.
Listening Skills: playing back strumming patterns, working out chords and riffs, song analysis.
Creative Skills: improvisation and the practical application of scales, developing riffs, creative use of rhythm when soloing.
Practical Skills: most of the lesson is spent on this section. This will involve playing songs from either tab, chord charts or memory/listening.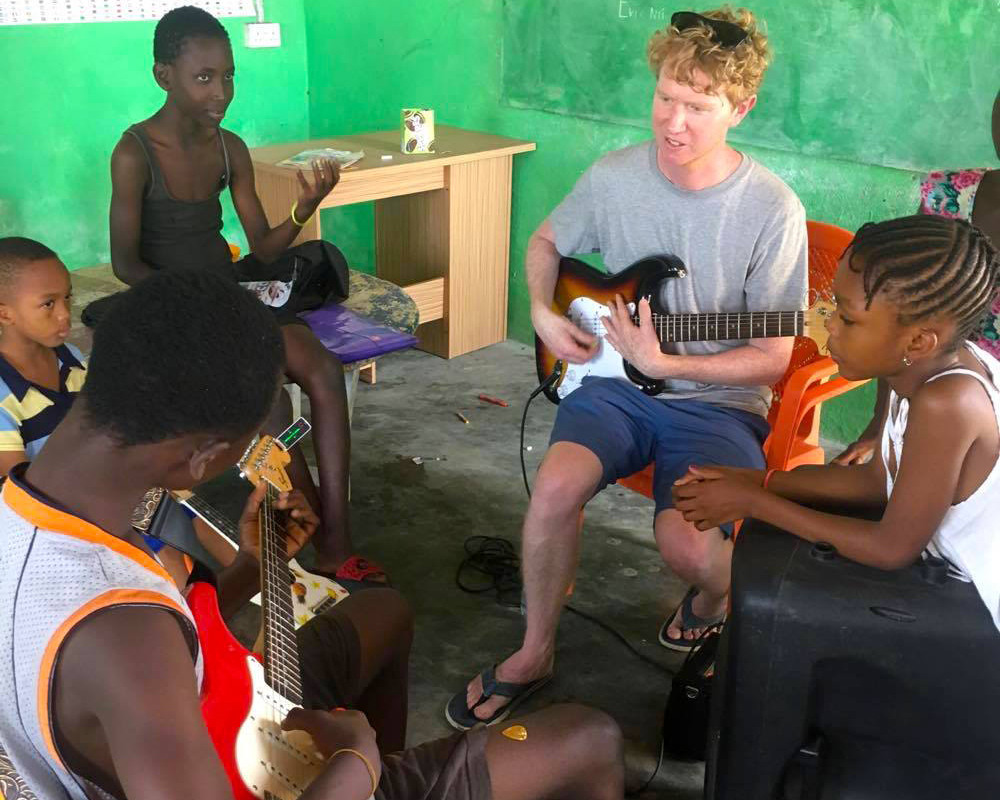 Other Instruments
Bass Lessons
Bass lessons cover the following aspects:
Technique: scales, dexterity exercises, arpeggios and reading rhythm.
Listening Skills: Working out basslines, chord progressions and rhythms.
Creative Skills: techniques for developing basslines, practical use of the scales, modes and arpeggio's through improvisation.
Practical skills: most of the lesson is spent on this section. This will involve playing songs from either tab, chord charts, memory or listening.
Adult Ukulele Lessons
Although ukulele is easier than guitar to progress on, it has its own set of unique challenges. A short course of ukulele lessons can make sure your technique is correct and that you don't pick up any bad habits (e.g. correct hand and thumb position).
Ukulele lessons are structured around the songs or styles of music you are interested in. Techniques and skills that are covered include: open chords, strumming patterns, fingerpicking, muting, barre chords, scales, listening, reading chord charts, notation reading (only if you are interested in this), TAB reading, and improvisation.
Children's Ukulele Lessons
Ukulele is also a wonderful first instrument for younger students. It is easier on the hands and fingers so your child will be playing chords and having fun in no time. The techniques learnt on the ukulele can also be used later if they decide to learn the guitar.
Ukulele lessons for children focus on transferable music skills such as reading notation, listening and learning different rhythms, which can be used on different instruments and in other musical environments.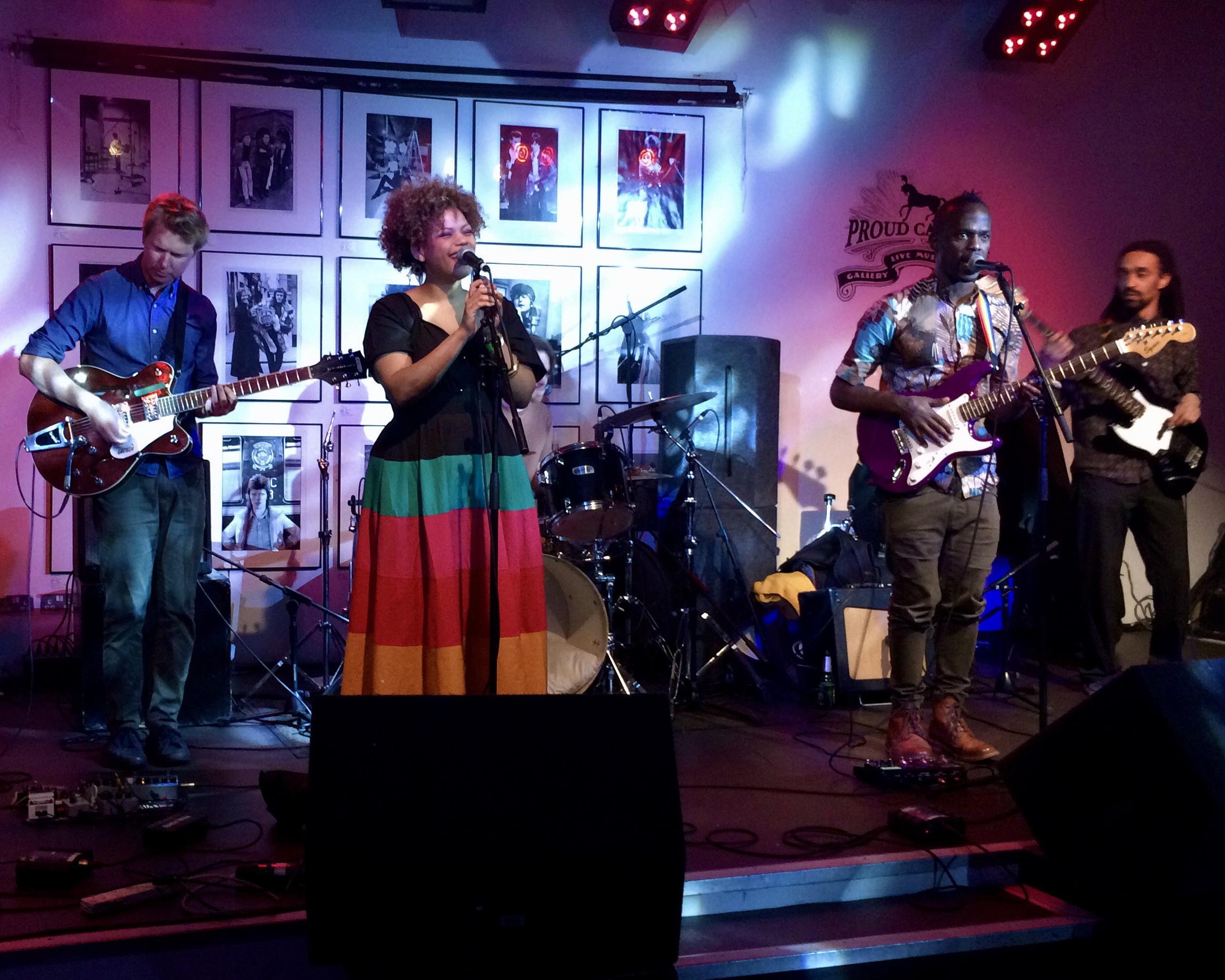 Rates
Lessons at John's recording studio in Honor Oak Park
or online
£25 for a 30min lesson
£35 for a 45min lesson
£40 for a 1 hour lesson
Lessons in your home in South London
£45 for a 1 hour lesson in the following areas:
Brockley (SE4), Crofton Park (SE4), Honor Oak Park (SE4), Forest Hill (SE23), Crystal Palace (SE19), North Dulwich (SE21), West Dulwich (SE21), East Dulwich (SE22), Sydenham (SE26), Lewisham (SE13), New Cross (SE14), New Cross Gate (SE14), Rotherhithe (SE16), Surrey Quays (SE16), Canada Water (SE16), Gypsy Hill (SE19), West Norwood (SE27), South Norwood (SE25), Brixton (SW2), Anerley (SE20), Penge (SE20).
If you are not situated in the areas mentioned please feel free to get in touch as it may still be possible to arrange music lessons in your home.
Contact
Email: john@southlondonguitarlessons.co.uk

Phone: 07846883054

South London Guitar Lessons, 60 Honor Oak Park, London SE23 1DY
Lessons take place at John's recording studio, or video calling platforms such as Zoom, Skype or FaceTime. The studio is located less than 100 metres from Honor Oak Park station and is a 10 minute walk from Crofton Park. It is easily accessible from Forest Hill (122, P4 bus or train), Brockley, New Cross (171, 172 bus or train), and Dulwich (P4 bus stops outside the studio).
NB: Google Maps lists the wrong postcode. The correct postcode is SE23 1DY.